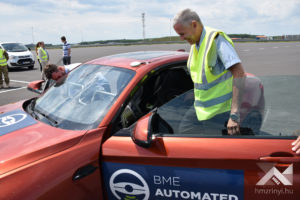 How can the V4 countries cooperate in the future in the field of transformation and innovation? Possible answers to these questions were explored through presentations and dynamic demonstrations at the ZalaZone Industrial Park, in the framework of the "Transformation and Innovation" programme. The event was reported in detail by honvedelem.hu.
The high-ranking guests visiting the centre, which also deals with research and development, innovation and the military industry, were able to gain insight into the possibilities of the perhaps not so distant future, not only in theory, but also in practice, with the help of experts from the Budapest University of Technology and Economics, the Széchenyi István University of Győr and ZalaZone.
Dr. Zsolt Szalay, Head of the Department of Automotive Technologies at the Faculty of Transport and Vehicle Engineering of the University of Technology of Budapest, Head of Research and Innovation at ZalaZone, in his presentation, besides presenting the park's self-driving test track, also talked about the fact that the centre will soon be part of NATO's DIANA defence innovation programme (DIANA is a programme that examines how civilian innovations can be effectively applied in the defence sector.)
Dr. András Háry, CEO of ZalaZone, gave a general presentation of the diverse ecosystem and potential of the entire park. Turning to the practical side, Brigadier General Dieter Kohl, Head of Innovation at NATO's Allied Command Transformation, and Jean-Francois Ripoche, Director of Innovation at the European Defence Agency, among others, also tested the self-driving car – developed by the BME Automated Drive Lab – on the ZalaZone test track, which is capable of drifting in a regular, mathematically precisely calculated arc in a way that defies professional racing drivers.
Source: honvedelem.hu