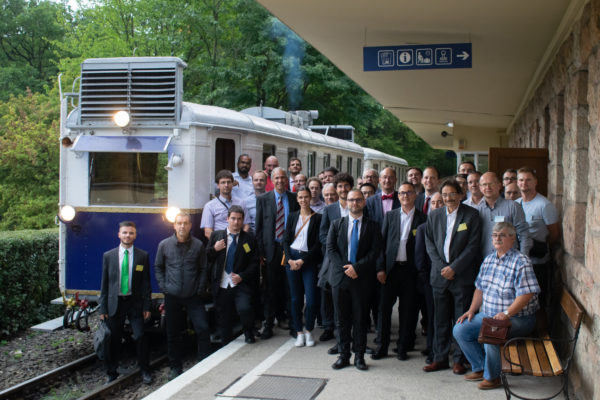 The 12th International Conference on railway Bogies and Running Gears (BOGIE'22) was organized by the Scientific Society for Mechanical Engineering (SSME) in the conference hall of the Danubius Hotel Hungaria in Budapest as of September 5-8, 2022. The Conference had 77 participants from 11 countries in Europe and Asia. The Conference was supported by a ten-member international scientific committee consisting of representatives and professors of the profession: Prof. Bruni, Stefano (Italy), Prof. Borbás, Lajos (Co-Chairman, Hungary), Prof. Matsumoto, Akira (Japan), Prof. Mei, T.X. (Great Britain), Prof. Myamlin, Sergey (Ukraine), Dr. Polach, Oldrich (Switzerland), Prof. Schindler, Christian (Germany), Prof. Vyas, Nalinaksh S. (India), Prof. Szabó, András (Conference President, Hungary). The 29 lectures (including 6 presented online) delivered at the four-day Conference covered the achievements in the design, production, operation and research of railway bogies and running gears in recent years.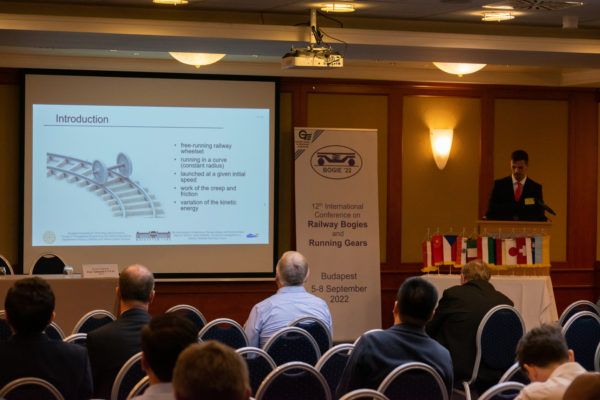 The declared theme of the Conference on bogies and running gears: design, manufacture, operation, maintenance and repair, measurement and qualification, mechanics, modern brake systems, unconventional constructions, optimal design with CAD methods, strength and load analysis, fatigue problems, service life prediction, prediction of reliability, modern control and steering systems, running stability, running quality and running safety, material fatigue caused by fretting corrosion, high-speed driven and running bogies, high-speed gear systems, driven and running bogies, heavy and light freight train vehicles and rail-bus solutions, special issues in the design of welded bogie frames, interactions between running gear and brake system, simulation, optimization and measurement of wheel-rail contact and wear processes.
The Chief Patron of the Conference was Dr. László Palkovics, Minister of Technology and Industry, Conference patrons were Szilárd Kövesdi, President and CEO of GYSEV Zrt., Péter Nagy, Managing Director of Stadler Magyarország Vasúti Karbantártó Kft., and István Schwartz, Managing Director of Dunakeszi Járműjavító Kft. The Conference participants attended a professional visit to Stadler Magyarország Kft. Bogie Revision Centre of Competence in Szolnok. The Team of the Department of Railway Vehicles and Vehicle System Analysis of the BME played a decisive role in the organization of the Conference.