The Automotive Safety and Security Research Group from BME Departement of Automative Technologies was an exhibitor at one of the world's largest vehicle safety conferences (27th Enhanced Safety for Vehicles Conference, Yokohama). And even more: they were in competition for the safety award.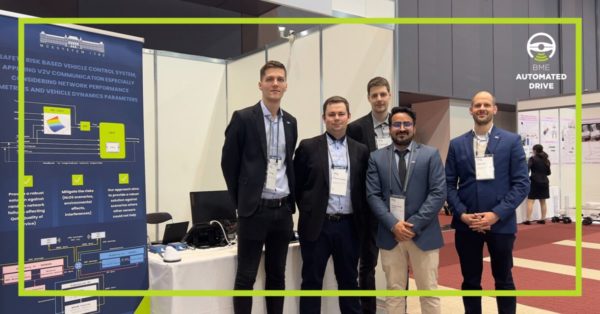 ◾ The 日本大学 – Nihon University University developed an excellent solution to evaluate rib fractures by applying a modified dummy.
◾ The Tokyo University of Marine Science and Technology introduced a new concept for fast autonomous cornering without causing a rollover.
◾ The Oregon State University presented a unique model for interfacing pedestrians, automated vehicles (AVs), and connected infrastructure.
◾ The University of California, San Diego, proposes a smart and innovative solution for hand activity analysis using a multi-camera framework.
◾ Virginia Tech brought a brilliant solution for the effective signaling of adjacent vehicles using a lighting interface.
◾ Last but not least, BME Automated Drive Lab introduced a new approach to improve the safety of V2X-based automotive functions.
We are proud to compete in such a talented field during the competition.
The 2023 ESV SSTDC (Student Safety Technology Design Competition) was amazing. The BME team was honored to participate in such a prestigious event.
Finally, the Tokyo University of Marine Science and Technology took home the gold medal, followed closely by the Oregon State University as runner-ups.